Heiligenblut, Hunguest Hotel Heiligenblut - Location
---
Map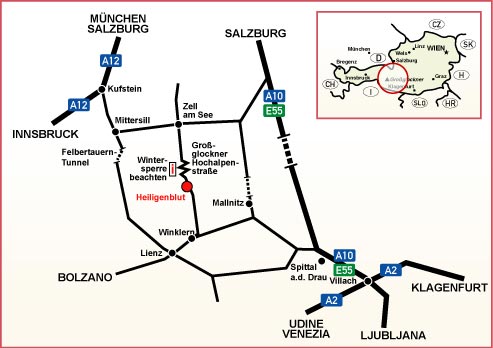 Arrival by car (general)

via the Tauern Autobahn (coming from Salzburg or Villach), go until you reach the junction Spittal/Millstättersee, exit Lienz, Großglockner, in Möllbrücke go right towards Heiligenblut
via the Felbertauern (coming from Munich), Lienz and the Iselsberg to Winklern and then towards Heiligenblut (tolls app. € 10)
Going through the Gasteiner Tal and the Tauernschleuse (car train/motorail train) to Mallnitz, in Obervellach go right towards Heiligenblut (tolls app. € 17)
via the Großglockner-Hochalpenstraße (open from May until October) (one day ticket per car € 28,00; 15day ticket € 35,00; 30day ticket € 45,00 // please be advised that crossing is only possible between 07.30 am and 08.00 pm!)

If you deceide to use the Großglockner Hochalpenstraße please notice the next paragraph!
Arrival by car using the Großglockner-Hochalpenstraße

Please notice: Crossing the Großglockner Hochalpenstraße is only possible from May to October between 7.30am and 8.00pm!

To be able to use Großglockner Hochalpenstrasse free of charge already for the journey, please contact us prior to your journey. We will send you your own voucher.

Motorbikes: Reduced combined route tickets are available at the Bikers Infopoint at the toll station Fusch/Ferleiten.
Route planner

The route planner can help you to find the best way to us.

Just type in the start point (mostly your residence) and confirm with the Enter key. A new window display the calculated route.

Have a pleasant journey!
Arrival by train

through Salzburg to the station in Mallnitz or
through Tirol to the station in Lienz

We will gladly meet you at the train station with our 8-passenger hotel bus, or you can take advantage of the excellent bus routes in town. You can get current train schedules by clicking on the following links: www.oebb.at or www.db.de
Arrival by motorail train

What could be better than this? Arriving with your own car but avoiding all the traffic jams, and the stress, yet still being mobile once you reach your vacation destination? Why not try the auto-trains provided by the Austrian Bundesbahn (Federal Rail System). Current train schedules and connections can be found by clicking on the following links: www.oebb.at or www.db.de

Provided train stations: Villach or Mallnitz
Arrival by plane
Of course the most comfortable and quickest method of traveling to Heiligenblut is by plane. We offer our pick-up service from the following airports:

The Salzburg airport is serviced, among others, by RyanAir and the Klagenfurt airport is serviced by Hapag-Lloyed Express (HLX).
We look forward to your visit.
---