Hévíz, Hunguest Hotel Panoráma - Gastronomy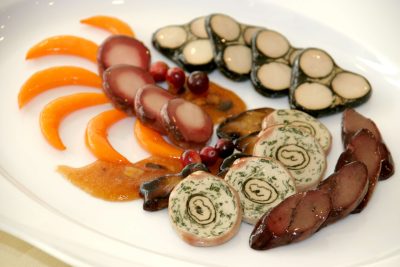 Restaurant Márvány
offers international, Hungarian traditional and vegetarian foods to our guests in buffet style or a'la carte.
In the lobby bar ( 08:00 - 23:00 ) there is Live Music from Monday to Friday evenings. We offer coffees, teas, cakes, cocktails and drinks.
Opening hours of our restaurant: 07:00 - 10:00 (breakfast), 12:00 - 14:00 (lunch) and 18:00 - 21:00 (dinner).
Our chef, Tibor Mayer had taken the 2nd place on the World Chef Championship in Luxemburg, in 2006. You can reap the harvest of his work when you book your accommodation by us.
What's on the menu card?
Goulash soup, Vegetable cream soup, Cold strawberry soup
Pork stew, Fried fish and potatoes slad with mayonnaise, Breast of turkey with fruits
Roasted vegetables and cheese, Rice with parsley, Gnocchi
Salads, cakes, fruits