Premium Wellness Dni na min. 2 noce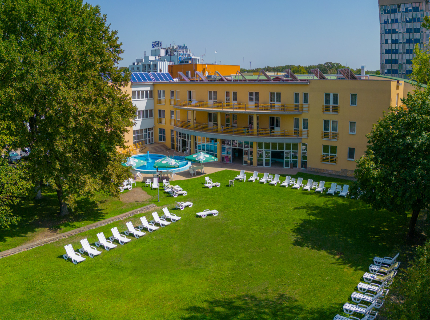 Oferta jest ważna na minimum 2 noce!
Hotel zastrzega sobie prawo do zmiany cen.
Można rezerwować online z rabatem aż
8 EUR
zakwaterowanie ze śniadaniem
korzystanie wellnessu i basenów
parking
WIFI z ograniczonem ruchem danych
VAT.
HUNGUEST Hotels Ltd. reserves the right to cancel performance of the services ordered by and confirmed to the Guest no later than 30 days prior to the commencement of the use of the services by written notice sent to the Guest subject to simultaneous refund of any advance paid in cash.
W cenie zawartość posiłku: 1 900 HUF /dorosły/noc, 950 HUF/dziecko 4-12 lat/noc.
W 2020 roku taksa klimatyczna 500 HUF/ osoba / w wieku od 18 lat / noc, ale zgodnie z obowiązującym dekretem rządowym miedzy 26.04-31.12.2020 gosci sa zwolnione z podatku miejskiego.
Oferta nie jest ważna w dni świąteczne.
W glównych /letnich/ sezonach i w swietach trzeba wyplacic zaliczke, rezerwacja
bedzie fix, jesly zaliczka przyszla.
Można rezerwować online z rabatem aż
8 EUR