Premium Wellness Dni na min. 2 noce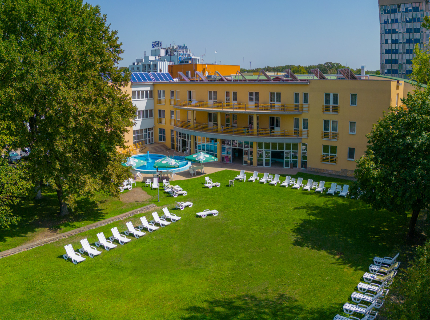 Oferta jest ważna na minimum 2 noce!
Hotel zastrzega sobie prawo do zmiany cen.
Można rezerwować online z rabatem aż
11 EUR
---
zakwaterowanie ze śniadaniem

korzystanie wellnessu i basenów

parking
WIFI z ograniczonem ruchem danych
VAT.
Informații suplimentare
We would like to inform you that from 1 September 2021, hotels have to comply with a new legal reporting obligation. Please make sure to bring the required IDs with you, this is now mandatory for children as well to use our services.
W 2021 roku taksa klimatyczna 500 HUF/ osoba / w wieku od 18 lat / noc.
Oferta nie jest ważna w dni świąteczne.

W cenie zawartość posiłku: 2 000 HUF /dorosły/noc, 1000 HUF/dziecko 4-12 lat/noc.

W glównych /letnich/ sezonach i w swietach trzeba wyplacic zaliczke, rezerwacja
bedzie fix, jesly zaliczka przyszla.
Można rezerwować online z rabatem aż
11 EUR