Hévíz, Hunguest Hotel Helios - Introduction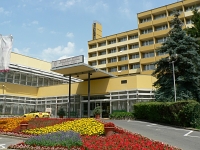 Hunguest Hotel Helios, comprised of the Helios Anna and Helios Benjamin, is waiting for you and your family in the middle of 11 acres of well-kept nature conservation less than a mile (500 meters) away from a thermal lake.
The 150 double rooms and 12 suites in the air-conditioned Hotel Anna have private bathrooms (with bath tubs), toilets, balconies, televisions, mini bars, telephones, and safes.
In the Hotel Benjamin, there are 48 double and triple rooms.
In the wellness section, you can enjoy wellness facilities like a fun bath, jacuzzi, sauna, infrared sauna, steam bath, Kneipp treading basin, and Scottish shower.
Preventive programs, meditation, massages, and wellness rituals help you maintain a healthy lifestyle.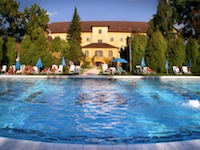 The hotel has a thermal bath by our own well, which is the basis of several healing cures and treatments (weight bath, mud pack, fluorine pack, underwater jet massage, drinking cure, electrotherapy, etc.).
Among
our holistic offers you can choose between natural healing, sound-energy massage, acupuncture, resonance music therapy in the thermal pool, quantum therapeutics, Bach flower therapy, Hellinger family statement.
The
hotel's newest specialty is fish therapy which is still a rarity even in Hungary. It is very effective against skin diseases such as psoriasis, acne, eczema. It is also an excellent natural skin care method.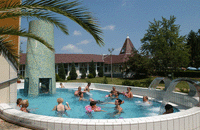 For the spring and summer months enjoy our beautiful wellness park's swimming pools, children's pool and sunbathing.
The hotel offers special meals for those who have food-related allergies or sensitivities; you can choose from lactose-, soy- and gluten-free, sugar-free, low-fat, low-calorie, and low-protein meals.
Every morning, you can enjoy a delicious healing tea, a therapeutic way to make your day more pleasant.
Useful advice, spine school, dietetic guidance, and private training plans help you develop a more healthful lifestyle in the frame of weekly health days.
Take part in various free sporting programs guided by our expert trainers such as: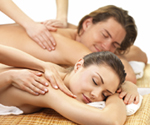 morning gymnastics, strengthening gymnastics, senior gymnastics and spinal gymnastics, stretching, breathing exercises Qigong, Pilates, ball gymnastics, band gymnastics, aqua gymnastics, aqua fitness, aqua jogging, aqua stretching, the Five Tibetan Rites of yoga, Nordic walking, power walking, and bike tours.
In the evenings guest can enjoy live music in the lobby bar,  Tuesdays mode-show, Wednesdays exhibition from handmade products, Thursdays with Hungarian music or light opera to entertain them.
 Various programs and concerts make the hotel's offerings attractive throughout the year.