Hévíz, Hunguest Hotel Helios - Gastronomy
Restaurant Borostyán offers international, Hungarian traditional and vegetarian foods to our guests in buffet form or a'la carte.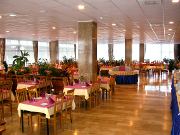 Opening hours of restaurant: 07:00-10:00, 12:00-14:00 and 18:00-21:00.

In the lobby bar (08:00-23:00) there is every evening Live Music.
---
Our daily menu listing will every single day contain a separate menu for those on specific diets, listed by dietary group.
Gluten-free diet

Damages to the cells of the small intestine and flattening of the intestinal villi are typical in case of those suffering from gluten allergy, when consuming food that contains gluten. On the surface of the mucous membrane of the small intestine, an atrophy of the intestinal villi occurs, followed by insufficient digestion and absorption. This is when clinical symptoms become apparent, and the bad lab results come. Recommended therapy: the DIET!
When taking advantage of a proper diet, the body recovers from the damage to the mucous membrane and the symptoms will cease. Those with gluten allergy are forced to follow a strict, but otherwise everyday diet for life. The principle of the diet is to eliminate gluten-containing food from the patient's diet anything containing wheat, oats, barley and triticale.
All of our menu dishes marked with the above pictogram may be totally safely consumed by those with gluten allergy, as they do not contain gluten.
 

Lactose-free diet

The essence of this diet is to avoid lactose in one's diet. Depending on the individual's level of lactose intolerance, it is necessary to decrease or totally eliminate lactose's presence in the diet. It is possible to substitute milk and related products with lactose-free or low-lactose milk products. Alternatively, herbal milk is also an option. Foodstuffs made with milk or lactose separately added, are to be avoided. Establishments offering lactose-free food must have special kitchen technology like we do.
All of our menu dishes marked with the above pictogram may be totally safely consumed by those with lactose intolerance.

Low calorie diet

Obesity is not a disease, it is just a condition. But the longer this condition exists, the more probable it is that it will have damaging effects. Certain diseases attack much more obese people than normally-sized people. Therefore it is not just for the looks that it is important to achieve the ideal body weight – it is essential in staying healthy and to avoid diseases occurring typically as the result of obesity.
The secret lies very far from the concept of asceticism. To successfully lose weight, one must not only lose a few pounds or kilos temporarily, but must stick to the achievement. To attain this, a change of lifestyle, to a certain degree, is required. The successful low-calorie diet is only half of the total success, for if it will not be followed by a change of lifestyle, we are back on square number one. The two pillars of lifestyle change are to stick to one's diet and exercise regularly.
This is what we would be glad to assist you in, with our low-calorie dishes! Look for the pictogram!


Low protein diet


The low protein diet contains .4 to .8 grams of protein per body weight-kilogramme, depending on the severity of the disease. Very importantly, the dishes contain the critically important essential amino-acids, which the body would be unable to produce in itself. The daily protein requirements of the body will be supplied by half herbal and half animal-related protein sources. Certain low protein dietetic foodstuffs are at disposal for the preparation of the dishes.

If you were prescribed a low protein diet, please choose our dishes marked with the above pictogram!


Native sugar-free diet

The point of the diet is to eliminate all foods and beverages from your diet that contain sugar or honey. The diet is rich in carbon-hydrates and fibre while containing no sugar or honey (or inverted sugar). Use artificial sweeteners. From breads and other bakery goods choose wholemeal products only (such as brown bread, bran bread). One must consume lots of vegetables and fruits, except for those with high sugar content (grapes, melon, watermelon, bananas, plums and greengage). When making a thick soup, it should be properly scrambled when making it dense. Mineral and tap water, light drinks can be consumed without limitations.

Our native sugar-free dishes comply with the above, so they may be safely eaten while on a native sugar-free diet! Look for the pictogram above when choosing your meal!


Low fat diet

Low fat diets place a limit on the calorie intake as well, as every gram of fat contains 9 calories, as opposed to the 4 calories attributed to proteins or carbon-hydrates. While on a low fat/high carbon-hydrate diet, one stays hungrier than usual. With a low fat diet, the risk of the occurrence of cardio-vascular diseases is decreased, due to the resulting lower cholesterol levels.

We would like to help you preserve your health with our low fat diet. Look for the above pictogram to find meals in the low fat diet plan!