Bükfürdő, Hunguest Hotel Répce - Introduction and location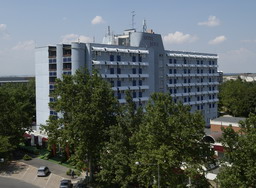 The 3 stars Hunguest Hotel Répce in Bükfürdő is run together with its four stars sister, Hunguest Hotel Répce Gold.
Our hotel, besides it is maximally guests friendly, what is confirmed by thousands of frequenters, it got a SENIORS FRIENDLY HOTEL title in 2006.

Bükfürdő is situated in the northern part of Vas county, close to the country western border, 47 kms far from Sopron, and 220 kms far from Budapest.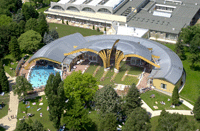 The place is famous in the whole Europe from its thermal waters, which its prophylactic and healing values ease reumathic and motoral parts problems. The Bükfürdő Health and Adventure Centre is run by the Büki Gyógyfürdő ZRT, there are not only medicinal pools, strand pools and pools for children in the spa but in the recreation park there is water park and an Institute of physiotherapy too providing complex services for guests. The Hotel Répce and the Spa are neighbours and a heated corridor connects the hotel and the spa so the guests can move between the two buildings in bath coat too.
There are 163 rooms on 7 floors in the hotel (3 lifts serve our guests), the guests can choose between apartments and standard rooms, for disabled persons we are able to provide comfortable equiped double bathroom set of rooms . In a room an extra bed can be provided for 1 or 2 persons. The equipment of the rooms is of higher standard than it can be expected in case of a 3 stars hotel.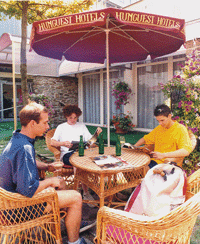 The restaurant offers a' la carte and buffet table system as delicious as it is only possible dishes prepared by the chef and his colleauge. You can find not only fine Hungarian dishes but vegetarian food as well. In the restaurant in the spectacular kitchen they prepare different foods from eggs, fired meats and pancakes; upon your wish.

Lobby bar with the wide range of drinks, romantic lounge, beauty-parlour, wellness-island (with swimming pool, bubble bath, finnish sauna, infrared sauna, steam). There is a grill corner and a place to put a fire, a basketballpark, a petang
| | | |
| --- | --- | --- |
| The region offers you lots of possibilities for excursions: Sopron, Kőszeg,Velem, Bozsok... We suggest for all of them, who loves going on trips; active relax lovers can ride a bike in the township (the hotel has lots of bicycles) | | |
They can play golf, play tennis, can hunt or fish … our animators will help you to arrange the choosen programmes.


Bükfürdő is easy to rich by car or by bus, the bus station , which is only 5 minutes far from the hotel can be easily reached with a through line from Budapest. An InterCity train providing you a comfortable journey arrives at the station in Szombathely. Bükfürdő placed 27 kms far from Szombathely can be reached with regular busses or we can provide a transfer* for those who arrives by train.



BY CAR from Budapest - on the M1 highway at the 129 km stone turn to the main road number 85 direction Sopron, then passing through Csorna turn to the main road number 86 direction Szombathely in the traffic circle, then at the 105 km stone turn to the main road number 84 direction Bükfürdő, at Sajtoskál – before the filling station - turn left direction Bükfürdő (the hotel is about 10 kms far from the traffic circle). This way the spa can be reached in 2,5 hrs. Guests arriving with car can leave them in the closed car park.

BY TRAIN through Budapest – by IC or other fast train through Szombathely, where after changing the train to a fast train or a passenger train going to Sopron you can reach Bük railway station, but it is more than suggested to take a regular bus or transfer*.

Online Timetable

DIRECT BUS DIRECT BUS runs between Budapest and Szombathely. From Szombathely is more than suggested to take a regular bus or transfer*
Online Timetable
- If you would like to transfer, please let us know 72 hours before arrival
- Prices of the transfer/ person/ way are valid till 31.12.2014:
Bük :
- railway station 10 EUR
- Szombathely 30 EUR
- Budapest 185 EUR
- Sármellék 100 EUR
- Vienna 100 EUR