Monastery Ostrog - a miracle in Montenegro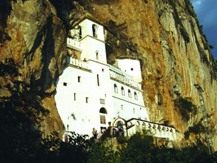 Monastery Ostrog, a miracle build by nature and human interactions, carved almost in its entirety in a vertical mountain cliff, is today the pearl of Montenegrin spiritualism that is annually visited by more then a hundred thousand pilgrims from around the world and of all religions. It is one of three most visited Christian destinations on the planet with its cave-like chapel and monastery complex that preserves the sacrilege of Saint Basil the Orthodox Saint of Miracles. All of Montenegrin spiritualism, belief and cultural treasures found their home high up in the Ostrog cliffs. This destination which will take your breath away will fill your soul with elevated feelings of love toward God.

Where is Monestery Ostrog?

Monastery Ostrog is situated on the cusp of the rich Bjelopavlic plain, carved high up in the cliffs, with easy access for visitors and an adventure one does not want to miss. It is located about 50 kilometers from the capitol of Montenegro, Podgorica and about 15 kilometer from the second largest town in Montenegro - Niksic. Since the two towns have a direct highway connection finding Ostrog is quick and simple.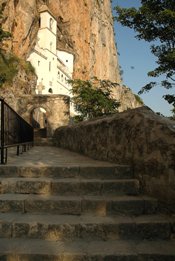 Arriving v

ia plane at the Podgorica airport, the distance from the airport to town is 10 kilometers and from there the drive to Ostrog is about 50 minutes. Arriving via plane at the Tivat airport, the old road from the nearby town of Risan goes directly to Niksic which is shorter then traveling thru the towns of Budva, Cetinje or Podgorica. Driving from Belgrade (Serbia) would go thru Podgorica , and driving from Sarajevo(Bosnia) or Dubrovnik (Croatia) would go thru Niksic. Good road conditions and links to major cities are another reason that visits to the monastery increase rapidly year after year.

Traveling to and from the monastery the rich Bjelopavlic plain greats the traveler, thru with one of the largest Montenegro river Zeta quietly flows. Breathtaking natural landscapes surrounded by the sight and sound of the waterfall Perucice seem to enlarge the wild vigor of the tamed stone and water. The unusual tranquil feeling experienced thru the plain is soon replaced by the holy peace of the Ostrog cliffs, that for many centuries preserve the myths, legends, miracles and stories of freedom of people large and small that have traveled to them. Thru the centuries, in the Ostrog region, in these unbelievable and unreal natural landscapes of Montenegro, the country was conceived in periods of peace and thru periods of hoping for freedom. Poets, writers, statesman, as well as just regular folks traveled to see this mystic, unique part of Montenegro.

The Upper monastery of Ostrog gives the traveler a feeling of standing on a balcony that allows you to view all of Montenegro. The valley of the river Zeta is lined with patches of forest, and in the warm months of the year with blooming orchards and fields planted with a variety of produce.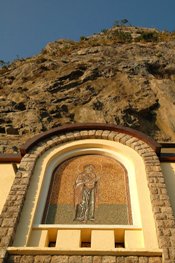 The monastery is located 900 meters above sea level, so during the winter months the road to it is a challenge even for the most experienced travelers. Nevertheless, true believers are still arriving in greater and greater numbers even during this time of the year. Even thou the best way to visit the monastery is to walk from the Podgorica highway thru the village of Bogetic towards the Upper and Lower monastery, vehicle transportation in form of taxis or rented caravans is always available from Niksic directly to the gates.

Legends and myths

Many legends and myths exist today about the life of Saint Basil of Ostrog. In one of these stories, Saint Basil thru a seed of a pear he just ate over the railing onto the cliffs, and in the morning a large tree has grown thru the rocks with flowers on one side and pears on the other. This is believed to happen in the month of February.

According to another story Saint Basil, who was also know as an expert doctor, needed parsley immediately and nobody had some. He planted seeds of parsley that night and the next morning he had grown parsley available for use. This same parsley kept growing year after year in a corner where it was not exposed to sun or rain.

Useful links:
www.visit-montenegro.com - all about Montenegro
www.hotelsunresort.hunguesthotels.com - our beach resort hotel in Herceg Novi