Turkish Bath in Eger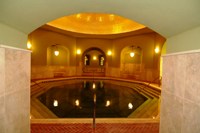 2009th the end of September in the northern region, welcomes its guests a unique, internationally known turkish baths, which Hunguest Hotel Flora is located in the immediate vicinity.

In the early 1600's, built the original pool of five Turkish pools, saunas,massage, steam bath and hamammal (traditional Turkish steam bath and massage) were added. In addition, aesthetic elements and a nice rest area megvilágításokkal parts further strengthen the Turkish atmosphere.

Spa services can be found between different massage treatments, such as.:
Scheherazade aromatherapy massage,
Ladies refreshing foot and hand massage,
Black tar treatment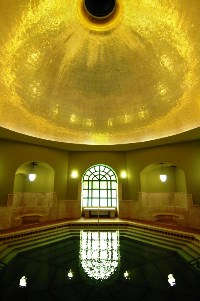 Therapeutic massage,
Manager massage
Shadiva neck and face massage,
but lady guests of different body and body-shaping treatments, aromatherapy baths, such as.:
Bull's Blood Bath
Gül Baba rose baths can choose from.

The wellness services on weekdays from Monday to Friday 14:30-21:00-pm, Saturday and Sunday 9:00-21:00-am waiting for guests who wish to refresh and realx. During the summer there is an opportunity to travel through the Beach and Spa is also the territory of the curfew.

Hunguest Hotel Flora in Eger, Hungary with discounted package provides the framework for exploring the possibility of a Turkish bath.