All inclusive offer with entrance to the spa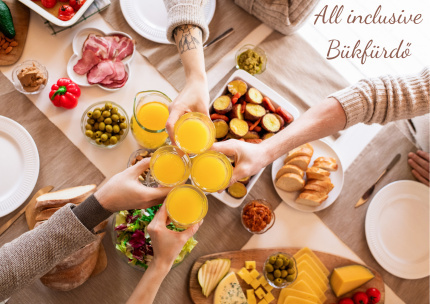 All inclusive offer in Bükfürdő!
Valid: 02.01.2023 - 28.02.2023* at min. 2 nights
Special All inclusive offer in Bükfürdő with the number of nights equal entry to Bükfürdő Thermal&Spa!
Do not forget: Our hotel is unique in Bükfürdő, since it has direct connection with the Bükfürdő Thermal&Spa through a topped and heated corridor.
Do you want to come with more children or cannot find the right offer? Send us an inquiry here!
(The inside and outside renovated Hotel Répce = East wing, while the Hotel Répce Gold = West wing are under these new names available. The West wing will be from 1st September 2022 under renovation.)
---
accomodation
with All inclusive catering

equal to the number of nights entry to the Medicinal Bath and Adventure Bath of the Bükfürdő Thermal&Spa (more information on the site of the spa: www.bukfurdo.hu)
use of the fitness room and saunas in the hotel (East wing)
participation in active programmes
bathrobe use

WIFI in rooms and lobby
parking place (to the extent of capacity)
Further Information
We would like to inform you that from 1 September 2021, hotels have to comply with a new legal reporting obligation. Please make sure to bring the required ID's with you, this will be from 1 January 2022 mandatory for children as well to use our services. Further information: vizainfo.hu/en/guests
In accordance with the relevant government decree, we may currently welcome guests in our hotels from both Hungary and abroad without restriction (immunity certificate). Guests and staff alike may choose whether to wear a mask at their own discretion.
Additional charges:

Local tax: 550 HUF/person/night: ca. 2 EUR/person/night (from 18 years old)

*Valid: 02.01.2023 - 28.02.2022, at min. 2 nights

At our hotels in Hungary we created the opportunity for our guests to have already taken the room before 14 o'clock and, if they so wish, stay longer, than 10 o'clock in the morning.
The offer is limited available, so please, contact the reception of the hotel for details 24 hours prior to arrival and departure!
Extra charge:

Early check-in: 5 000 HUF/room
Late check-out: 9 000 HUF/room

The content of the All inclusive catering:

7: 00-10: 00 buffet breakfast with sparkling wine
10: 00-12: 00 snack in the bar (pastries and fruit)
12: 00-14: 00 snack lunch
14: 00-17: 00 Snack in the bar (coffee cake, fruit)
17: 30-21: 00 buffet dinner

7: 00-10: 00 sparkling wine, breakfast drinks, coffee (from the machine)
12: 00-22: 00 non-alcoholic drinks, coffee (from a machine), draft beer, house wines (white, rosé, red)
18: 00-22: 00 sparkling wine, spirits

From the offered price, the following amounts apply to the meals included:

for adults: 18 600 HUF/person/night
for children between 4-12 years old: 9 300 HUF/person/night

Limited number of rooms is available.
The prices depend on the occupancy of the hotel.
We would like to draw the attention to our guests that our own and transmitted services can be provided with all-time state regulation and professional regulations.
These restrictions may affect hotel hospitality, such as designated table and seating plan, dining turn, keeping your distance, cash-free and partial restrictions on wellness and spa services.
Each of these arrangements are for your safety. Thank you very much in advance for your understanding and patience!
Rules and regulations of payment and cancellation:
In this term we require 20% deposit, after the ordered services to the following bank account within 7 days:

Erste Bank Hungary Zrt.
SWIFT/BIC: GIBAHUHB EUR
IBAN: HU50 11600006 00000000 77650342***

The rest of amount is upon arrival on the spot in cash or by credit card (MasterCard, Visa, Maestro, American Express). We do not accept 200 and 500 EUR banknotes.
Before making the transfer, please be sure to provide your billing name and address by e-mail to: rezervacio@buk.hunguesthotels.hu , where the advance invoice and the final invoice will be issued. Without that information, we will not be able to record the amount received with the booking. Please indicate your name and booking number in the remarks note. If you are requesting an invoice for a company name, please also provide the company tax number. Without any special request will be the advance invoice handed over to our guests on arrival.
*** Services ordered in EUR can only be paid in EUR!

Our guest may cancel or postpone their reservation within min. 7 days before arrival. If the cancellation or the modification is made later, we reserve the right to ask the 20% of the cost of the reservation as a cancellation fee, or min. the price of 1 day stay.

In case of online reservation, you can find the cancellation and payment regulations on your confirmation.
By clicking on the "BOOK NOW" button, you can make a price calculation and you can take our online discounts!