GOLD All inclusive offer with entrance to the spa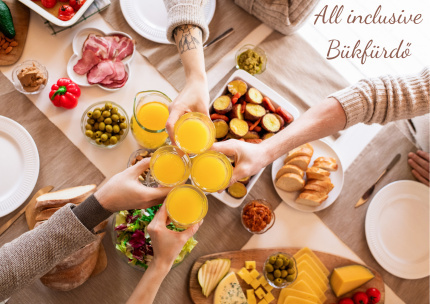 Valid: 11.12.2020 - 18.12.2020* at min. 2 nights
Special All incousive offer in Bükfürdő with the number of nights equal entry to Bükfürdő Thermal&Spa!
Do not forget: Our hotel is unique in Bükfürdő, since it has direct connection with the Bükfürdő Thermal&Spa through a topped and heated corridor.
Do you want to come with more children or cannot find the right offer? Send us an inquiry here!
The price included:
accomodation with All inclusive catering - (according to the current regulations)
equal to the number of nights entry to the Medicinal Bath, Open-air Swimming Pools and Adventure Bath of the Bükfürdő Thermal&Spa (more information on the site of the spa: www.bukfurdo.hu)
use of the wellnes island (according to the current regulations)
participation in active sport programmes
bathrobe use
WIFI in rooms and lobby
parking place
The content of the All inclusive catering:
7: 00-10: 00 buffet breakfast with sparkling wine
10: 00-12: 00 snack in the bar (pastries and fruit)
12: 00-14: 00 snack lunch
14: 00-18: 00 Snack in the bar (coffee cake, fruit)
18: 00-21: 00 buffet dinner

7: 00-10: 00 sparkling wine, breakfast drinks, coffee (from the machine)
10: 00-22: 00 sparkling wine, non-alcoholic drinks, coffee (from a machine), draft beer (Soproni), house wines (white, rosé, red)
18: 00-22: 00 Vodka, gin, whiskey, Jägermeister
Additional charges: Local tax: 530 HUF/person/night: ca. 2 EUR/person/night (from 18 years old) (The amount of the tourist tax in 2020 (over 18 years of age) is HUF 530/person/night, which our guests are exempted from paying until 31 December 2020 in accordance with the valid Government Decree.)
From the offered price, the following amounts apply to the meals included:
for adults: 9 400 HUF/person/night
for children between 4-12 years old: 4 700 HUF/person/night
*Valid: 11.12.2020 - 18.12.2020 at min. 2 nights
Limited number of rooms is available. The prices depend on the occupancy of the hotel.
We would like to draw the attention to our guests that our own and transmitted services can be provided with all-time state regulation and professional regulations.
These restrictions may affect hotel hospitality, such as designated table and seating plan, dining turn, keeping your distance, cash-free and partial restrictions on wellness and spa services.
Each of these arrangements are for your safety. Thank you very much in advance for your understanding and patience!
For the latest information, please contact our colleagues at one of the following contacts:
Email: hotelrepcegold@hunguesthotels.com Phone: + 36-94-558-558
By clicking on the "BOOK NOW" button, you can make a price calculation and you can take our online discounts!