Szeged, Hunguest Hotel Forrás - Weddings
Have you found the right one? Then find the right place, too!
Our high-quality and flexible services will make this wonderful day truly memorable for you.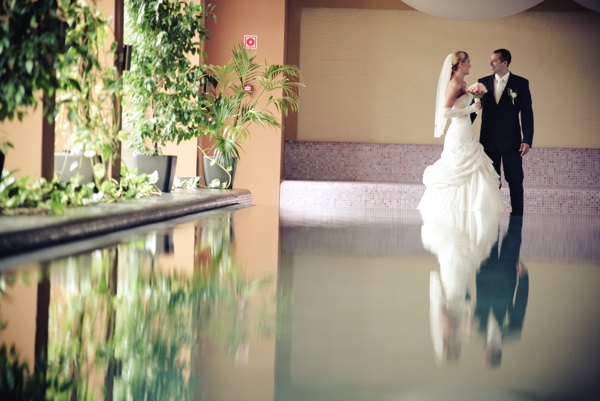 Our garden, which is unique in Szeged, is an ideal venue for weddings (including an official civil wedding with a pre-arranged registrar service) with a party tent hosting 100 guests and an open kitchen.
Our lounge and restaurant can conveniently host up to 250 to 300 people at a time.
Our hotel's complimentary gift is a free night's stay in a queen-sized room for the new couple for the night after the wedding dinner, with breakfast the next morning.
Wedding guests are eligible for a discounted rate for their stay.
And don't forget about wedding accessories – these details create the uniqueness and cosy atmosphere of the wedding dinner venue.
We are happy to help you with everything from the flowers to the decorations, fireworks or the band.
The menus below serve as an example of our culinary masterpieces, and can be tailored to your specific needs. We offer a wide range of options, but the final choice is yours!
We look forward to meeting you in person and providing more information. Phone: +36-62-566-466 E-Mail: hotelforras@hunguesthotels.hu
Menue offers:
Wedding garden party, Menu 1.

Chicken soup Újházi style
Cold raspberry soup
Pork shoulder baked with garlic
Marinated grilled trotters
Lamb stew in a cauldron
Prime rib roast cured in spicy marinade
Rotisserie barbecue
Chicken thigh fillets marinated in barbecue sauce
Chicken breast baked in yoghurt
Potatoes baked in tin foil with sour cream and bacon
Steak potatoes
Grilled garden vegetables
Tzatziki
Traditional Greek salad
Home-made pickled vegetables
Aranygaluska – dumplings made of yeast dough with walnuts and vanilla custard
Fruit pie
Assorted fruits

Wedding garden party, Menu 2.

Starters, finger food:
Goose liver nougats with balsamic reduction
Serrano ham with gorgonzola mousse
Lamb meatballs with minty sour cream
Hollandaise sauce with asparagus
Red tuna sashimi with green pea purée
Antipasti with baby mozzarella balls


Soups:
Raspberry cocktail with lemongrass and vanilla ice-cream
Szeged style mixed fish soup
Main courses:
Prime rib roast made on a slow fire
Marinated and grilled pork
Pljeskavica with sheep cottage cheese and chives
Filleted rooster stew
Grilled chicken with thyme and lemon
Turkey breast au gratin with dried tomatoes
Sea catfish baked in milk and garlic
Stuffed vegetables with spicy cheese sauce

Side dishes:
Baked whole potatoes with kaymak
Jacket potatoes with rosemary
Rice balls with vegetables and parmesan cheese
Dumplings with sheep cottage cheese
Steamed vegetables with butter and forest mushrooms
Greek salad, tzatziki and baked peppers with vinegar
Salad bar


Final courses:
Ice cream
Petits fours miniature sweat treats
Fruits and cheese
Buffet dinner after midnight:
Miniature stuffed cabbage
Mini meat balls
Traditional Greek salad
Russian meat salad
Cheese selection on a wooden platter
Assorted fruits