Panorama All Inclusive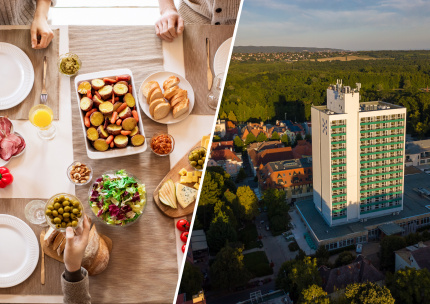 The Hunguest Hotel Panorama is open again
Valid from 1st November 2021 to 31st May 2022. The offer can be booked for a minimum of 2 nights stay*.
Hunguest Hotel Panorama is waiting for you again in Hévíz! Book now and try our renovated rooms and services. The direct connection still provides a convenient access to the spa and adventure bath of St. Andrew's Rheumatism Hospital and Medical Center.
---
accomodation
with all inclusive catering**
according to the current regulations

free Wi-Fi throughout the hotel,
VAT
Further information:
We would like to inform you that from 1 September 2021, hotels have to comply with a new legal reporting obligation. Please make sure to bring the required IDs with you, this is now mandatory for children as well to use our services.
In accordance with the relevant government decree, we may currently welcome guests in our hotels from both Hungary and abroad without restriction (immunity certificate). Guests and staff alike may choose whether to wear a mask at their own discretion.

Rate does not include the local tax (HUF 530/person/night, over the age 18), it is to be paid separately on the spot.
The price does not include the parking, it is to be paid separately on the spot.

parking: 1800 HUF/car/night,
underground garage: 2300 HUF/car/night.

Please note that parking spaces at the Hunguest Hotel Panorama are limited, and they cannot be reserved in advance.
Prices are subject to availability.

If you are planning to have an early check-in (between 10:00 and 14:00) or you are planning your departure later (between 14:00 and 20:00) you should consult it at the reception of the hotel in advance with our colleague and depending on our capacity and for an extra fee:

early check-in: 10:00 - 14:00: 6 000 HUF/room/occasion
late check-out: 14:00 - 20:00: 6 000 HUF/room/occasion

**Meals | all inclusive board:

7:00-10:00 weekdays /or
7:00-11:00 weekends: buffet breakfast in the restaurant
12:00-14:00 reduced buffet lunch in the restaurant
15:00-17:00 afternoon coffee and cookies in the lobby bar (salty-sweet muffins, fruit)
18:00-21:00 buffet dinner in the restaurant

Drinks every day:

7:00-10:00 weekdays /or
7:00-11:00 weekend: champagne, vending machine for drinks, coffee (machine)
12:00-14:00 champagne, juice vending machine, draft beer, wines, coffee from coffee machine
15:00-17:00 tea and coffee from coffee machine
18:00-21:00 champagne, juice machine, coffee machine, tap beer, wines, vodka, gin, whiskey, Hubertus

Child's rate

0-3,99 years: FREE OF CHARGE
4-11,99 years: 50% discount of adult price
from 12 years: adult price EUR/night/person

Spa passes are not included in the package and can be purchased at the hotel reception upon request.
Prices are subject to availability.
The offer can be booked for a minimum of 2 nights.
*excluded periods:

23.12.2021. - 01.01. 2022.
11-14. March 2022.
15-17th April 2022.
Rules and regulations of payment:
In case of hotel reservations, we ask for an advance payment. The deposit to be paid is 30% of the booking amount, which must be received in our hotel bank account no later than 5 days after booking.
The rest of the amount should be payed upon arrival.

The cancellation deadline: at least 3 days prior to arrival.
The reservation can be canceled free of charge until 14:00 on the 3rd day before arrival. If canceled up to 14:00 on the date of arrival, 30 percent of all nights will be charged.
In case of early departure, the 30% of the amount of the reservation will be charged.