Heiligenblut, Sporthotel Heiligenblut - Ski & sport
Ski region Grossglockner-Heiligenblut
In the romantic winter sports region surrounding the Großglockner/Heiligenblut (1,301 m above sea level) in the middle of the Hohe Tauern national park, there are 11 ski lifts for sports enthusiasts to use and that will take you up to 2,912 m above sea level. The certainty of snow is almost guaranteed due to the ideal location. A total of more than 55 km of slopes awaits you to challenge your skiing and snowboarding skills and offer you the best possible winter vacation imaginable.
Grossglockner - Heiligenblut - Top of Austria
Skiing on the Grossglockner. Wonderful slopes and deep powder slopes in view of Austria's highest mountain, the Grossglockner. Heiligenblut offers this and more. The fascination of the Mountain-world with their three thousenders, the unspoilt nature the warmth and coziness of peasant culture lure all year with countless free time offers.
Short waiting times and almost guaranteed snow is due to the altitude of 1,301 m to 2,989 m and varied runs for all skill levels the heart of every winter sports enthusiast, whether carvers, snowboarders or freeriders beat. With about 15km² Ski area in high alpine terrain countless variations and departures of up to 1500 m height difference belong to a visit for the own Freeride Area. The service for the freeriders is comprehensive: the Freeride Checkpoint on the Central Station give you information about the current avalanche situation, show you the opened and closed skiroutes and allows the current LVS Check. The Informations about the weather with wind speed and temperature complete the important Check for Freeriders. The families in Heiligenblut are even in good hands.
The Snowland offers a lot of fun for the kids.
Another particularity of the ski area are a lot of small quaint "skihütten".
On the sunny terrace will be served original "Carinthias delicacies."
For snowfun off the slopes ensure well-made ski trails (12km), sledding and ice skating-possibilities, snowshoeing, skiing and winter hiking trails and ice climbing.
Source: Grossglockner Bergbahnen GmbH
Skiing
Our Hotel is located in one of the most snow-secure region of Austria. The highest point of the Ski Region Grossglockner-Heiligenblut is on the altitude of 2902 meter above sea level. The majority of the ski pistes is to be found over 2000 meter, so you can ski in our region during the whole winter season (from December to April).
Facts & Figures
Lifts (12 total)
4 gondola lifts
1 4-person chairlift
6 T-bars
1 beginner lift
Ski Slopes (55 kilometres by skiers = 31,1 km slope line = 129 hectar area)
easy 20 km
intermediate 34 km
difficult 1 km
Season operation
from 06 December 2013 continuous supply operation
from 13 December 2013 with enough snow full operation
Hours of operation
Daily from 9 a.m. to 4 p.m
Sea Level
Further information
"Top Ski Area" Award
The Grossglockner / Heiligenblut Ski Area has been recognized by
Skiresort.de
, the world's largest test portal for ski resorts, as a Top Ski Area. The team of Skiresort.de has tested the ski area in the 2013/2014 season in 18 evaluation criteria. Grossglockner / Heiligenblut reached Top rating with 3.5 out of 5 stars. Please click
here
for the detailed test report!.
Free Riding
In "Carinthia" the highest ski resorts are Grossglockner/Heiligenblut, Mölltaler Gletscher and Ankogel offering excellent conditions for free riding which is becoming more and more popular. Together as "Ski Kärnten" these ski resorts are counting as one of the best Free Ride areas in the East Alpine Region.

The ski resort Grossglockner/Heiligenblut is offering a 25 ha large area for free riding area, with slopes starting at the Gjaidhöhe – altitude 2989 m - and is going down to the Heiligenblut-Pockhorn – 1160 m altitude.

For more information about Freeriding in Heiligenblut please click here.

Snowboarding
More than 55 km of slopes are waiting for snowboarders in Heiligenblut. There's no limit for sports enthusiasts. Challenging and exciting activities are a priority here and the best snow conditions contribute to the perfect atmosphere.

Ski Tours /Ski Routes
The mountains surrounding Heiligenblut are worth the climb, especially in the winter. Whether you choose to explore on cross country skis or with snowshoes on your feet and your snowboard on your back, this type of excursion is part of the extraordinary vacation you will have.
For the Ski routes in Heiligenblut-Großglockner please click here.
Cross Country Skiing
There are numerous well prepared cross-country skiing routes just waiting to be explored. For example, directly in Heiligenblut: 3 km of cross country tracks at 2,200 m, skating or classic; "Glockner" and "Sonnenblick" tracks in the valley, 10 km, skating or classic.

Ice Climbing Garden
Available from the beginning of January until March, accompanied by a mountain guide, for those who would like to experience this fascinating sport are the Fleißtal waterfalls. The best time for ice climbing is the beginning of January until March.

Toboggan run Pohnwald
... after a pleasant walk (approximately 10 minutes walk from the Hunguest Hotel Heiligenblut) up light on the sled - 1.2 km toboggan run - that is, you must not wait to enjoy up to the next full moon to toboggan run – daily until 10 pm is lit!


---
Pool area
Our pool area includes a 10m x 5m swimming pool, wading pool, sauna and steam room, infrared cabin with scented oils and background music, relaxation room and different kind of massage.
Swimming pool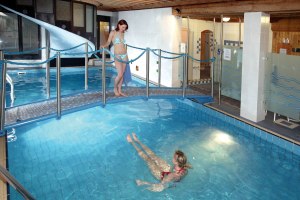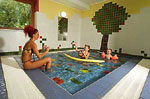 Our bathing grotto includes a 10m x 5m swimming pool featuring a counter current unit - perfect for relaxing after a long day of skiing or hiking. Alternatively, you can spend a rainy day in our bathing grotto with your children. The wading pool offers fun in the water. And for a small charge we will gladly provide you with a bathrobe (5 Euro; limited quantity). You have also the possibility the buy a bathrobe at the reception.
Sauna
Relax in our steam room or in our Finnish sauna and just turn off the stress of your everyday routine. Take the time to explore our modern infrared room including scented oils and background music - the perfect way to forget a strenuous day! We will provide you sauna towels for your visit in our sauna world and will, of course, refresh them as needed.

---
Sport
Tennis, squash, table tennis
Directly beside the hotel there is the covered court. On 3 grain courts you have the possibility to play Tennis.
Furthermore you can play squash on a separate court.
You can book both offers at the Reception against payment.
In addition, at the inner courtyard of the hotel and in the covered court in is a table tennis table and on the meadow a Volleyballcourt for free use.
---
Outdoor sport

and adventure
A lot of outdoor sports, e.g. Canyoning or Rafting, you'll find at the topic "Summer".